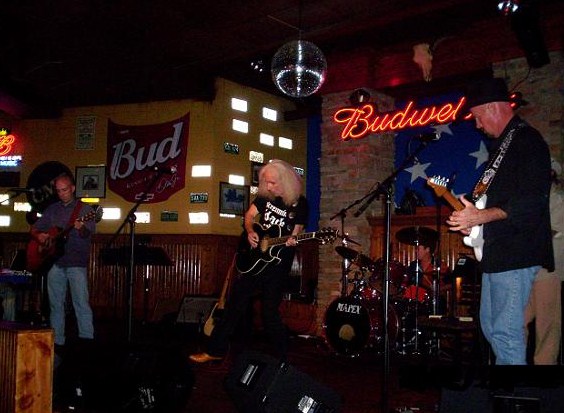 I met Joel Alan Lehman several years back, when I produced his "Pure Texan"
CD. We became good friends, and have been doing a couple of European tours
together every year, billed as Steve Haggard, Joel Alan Lehman & The Nashville
All-Stars. It's a side project for us, but something we really enjoy. Not long ago,
we decided that it'd be nice to record a live album, so we booked ourselves into
a club here in Nashville called the Cadillac Ranch and cut about a dozen songs.
The album is scheduled for release in early Spring 2010. The photo above was
taken during the gig. Rhythm guitarist Tony Garcia is at the extreme left, I'm
in the middle, Kathy Burkly is on the drums, Joel is at the right, bass player
Supe Granda is mostly hidden behind Joel. John Heinrich, who played steel,
dobro and sax that night, is unseen to the left of Tony. Also not pictured is
David Russell, who joined us on fiddle for a couple of songs.