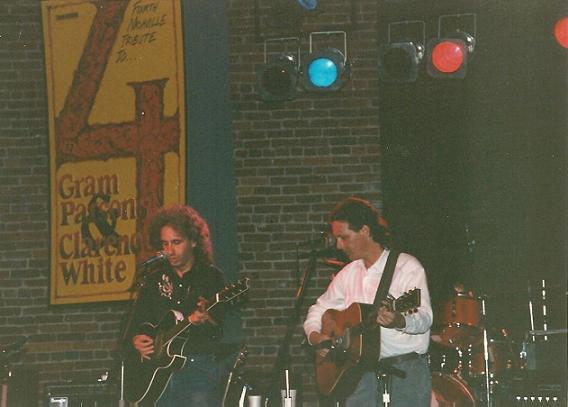 I moved to Nashville from California over Labor Day weekend of 1989, and
the first gig that I got was a really good one just about two months later:
The 4th Annual Gram Parsons & Clarence White Tribute at the Cannery.
(I got the gig on two days' notice, because one of the acts cancelled.) Also
on the bill were people like Marty Stuart, Vince Gill and Duane Eddy. I had
just met Teddy Glenn (on guitar at the right) a few days earlier, and we'd
never even played together... but I called him up, we did a quick rehearsal,
and did the gig. It went very well, and was great for me in terms of getting
my career in Nashville started. Teddy and I went on to do a lot of playing
together, including touring in Sweden, England and Scotland. We're still
friends more than 20 years later.