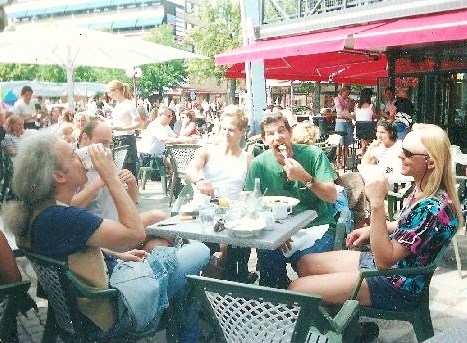 I've worked with a lot of musicians over the years, and with all
of my touring overseas, a bunch of them have been Europeans.
Probably my favorite backing band has been the Danish group
known as the Rangers. We've played together in a number of
countries, including Denmark, Sweden, Germany and Israel. In
this photo -- taken in the city of Gavle during a two-week tour
in Sweden -- we're doing what we do best: hangin' out, eating,
drinking, and basically having a good time. From L-R: me, bass
player Gregor Forte partially hidden behind my glass; drummer
Gronne, steel player Paul St. Clair (not a Dane at all, but an old
friend of mine from right here in the US of A), and lead guitarist
Morten Donslund. On this particular tour, we also recorded a
song of mine that was released in Sweden, "The Roof Fell In".