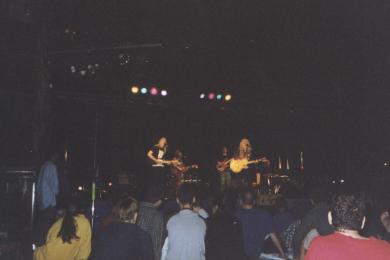 Elsewhere in this photo gallery, on the page about
the Dome Of The Rock in Jerusalem, I explain how
I wound up performing in Israel in the year 2000
in the first place. So I won't go into it again here.
In any case, we had a great time. All the people
we met were really friendly and hospitable, and
there were some truly amazing sights to see.
The reason for the trip was to perform at the
Jacob's Ladder Festival, held on the shores of
the Sea of Galilee. We played twice... once at
night (seen here), and once the following day.
I was backed by my good friends The Rangers.
Unfortunately, the photograph isn't very good.
There were six of us onstage, but the easiest
to spot in the pic are guitarist extraordinaire
Morton Donslund at the extreme left, and me
upfront with my orange/yellow Washburn.