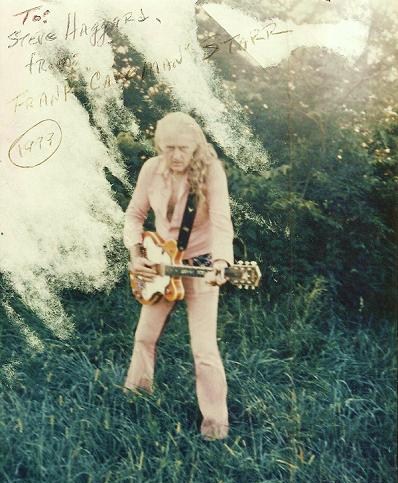 In the summer of 2002, I had the honor of producing
an album (his first in decades, and -- sadly -- his last)
for Rockabilly Hall of Fame member, Frank "Andy" Starr.
I'd first heard his music on a rockabilly compilation LP that
I bought sometime around 1980. The record featured some
tracks that Frank had regional hits with for MGM back in the
heyday of rockabilly in the 1950s. I was struck by his originality
and intensity, and became an instant fan. Frank had disappeared
from the music scene by the time I heard him; but through a chain
of events/coincidence, we got in touch with each other in 1999, the
year he sent me this autographed photo. (He signed it from Frank
"Caveman" Starr... one of his many nicknames. The "Andy" in his
name came from the fact that when he originally recorded in the '50s,
there was already a pop singer named Frankie Starr, and so his label
-- without asking him -- released his music under the name Andy Starr.)
Anyway, Frank and I corresponded for awhile, and in 2002 I drove out
to northwest Arkansas, where he lived in the foothills of the Ozarks. We
talked and played some music, and soon after that he came to Nashville
and we did his final recordings. He passed away in 2003. Frank was a true
original, and a pretty eccentric character, but he was a really nice guy and
a pleasure to know and to work with... R.I.P., Frank "Andy" Starr.